A Long Forgotten Era of Australian Whisky
20th November 2022 by Owain Phillips
This month a number of truly special bottles arrived in our office after a period of preparation. This small collection of bottles hail from a period in time when Australia was producing some of the finest and largest quantity of spirits and liqueurs.
When modern whisky drinkers discuss the origins of Australian whisky, names such as Lark, Sullivans Cove, Hellyers Road, Limeburners and Bakery Hill are thrown around routinely. Whilst it is true these brands were trailblazers in Australian whisky's growth throughout the 1990s and into the early 2000s, they are not where the story of Australian whisky begins.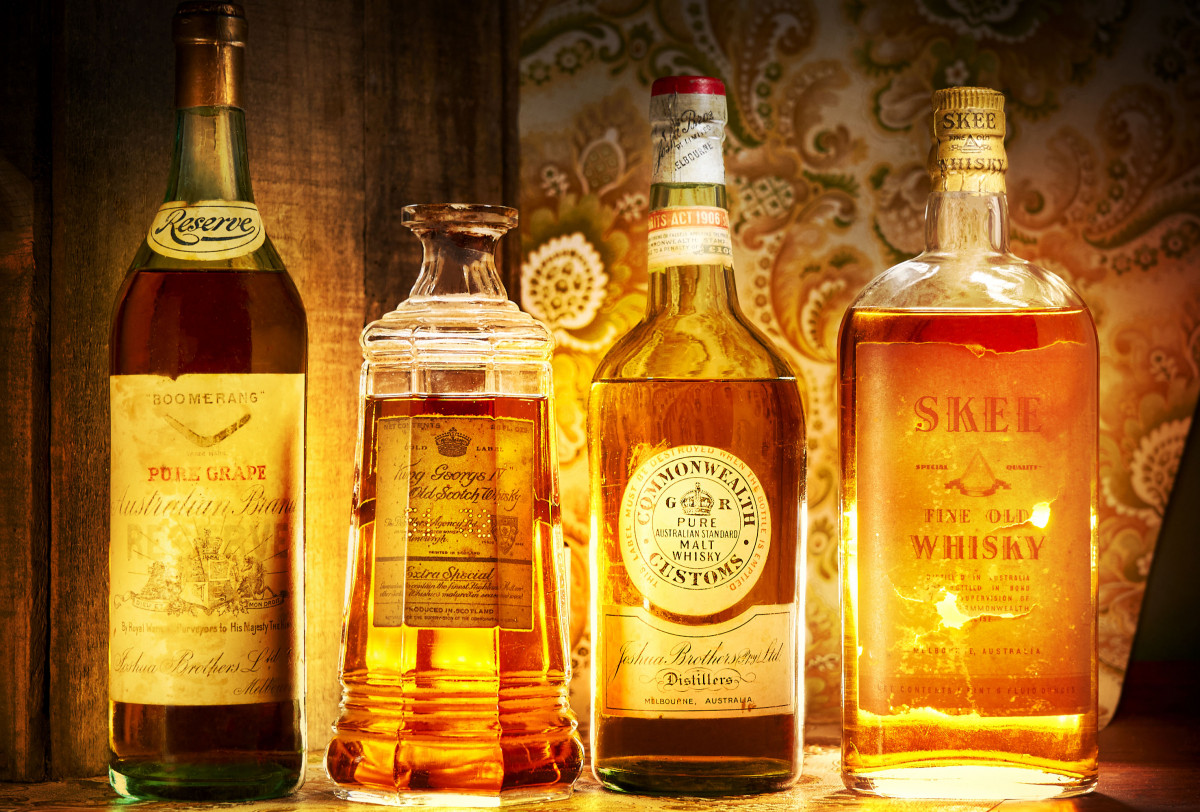 Featured in our November auction are four truly spectacular and historically important bottlings. A King George IV Scottish blend bottled around the 1940s, SKEE whisky from the shuttered Corio distillery in Geelong estimated to be from the 1930s, as well as two incredibly rare bottles of brandy and whisky from the Joshua Brothers distillery located in Port Melbourne estimated to be from the early 1900s.

Federal distillery 1955

The Joshua Brothers

A name likely unknown to many, the Joshua Brothers began in 1884 amid Melbourne's huge industrial boom of the 1880s. Built as the Federal Distillery in Port Melbourne, their factory was equipped with everything a Victorian era producer could want. This included a cooperage, malting facilities, 4 pot stills as well as a hugely innovative Coffey still that allowed for high volume grain production.

It cost £150,000 GBP to build, approximately £22 Million GBP or $40 Million AUD in today's money, and spirit officially flowed from 1886. Saul Joshua, one of the seven Joshua brothers founders, noted that in 1894 the factory employed 50 - 60 year round employees, with an additional 25 men hired during malting periods and 30 extra coopers hired when barrels arrived.

Barley was sourced from the UK, New Zealand and Victoria, with the cheapest option typically purchased in bulk and stored. Maize was often used as their grain source due to its high yield and the flavourful spirit it created from their Coffey Still, however just about any grain that contained starch was used at Federal distillery.

Saul Joshua and his brothers were heavily involved in the import and export of rum, founding the Yarraville Sugar Works in 1873 before the establishment of their Federal distillery. Despite not continuing operation of the site, the Joshua Brothers utilised Queensland cane juice and molasses processed at Yarraville for their own rum production at the Port Melbourne facility, which Saul then took all over the world.

Spending much of his time in Mauritius, he established an office for the Joshua Brothers there and gained a reputation as a strong rum merchant.
| | |
| --- | --- |
| The fermentation vats at Federal distillery, Cameron, T. W., photographer, 1913 | Created by Troedel & Co. lithographers, 1892 |
This interest in various spirits led to the production of Boomerang Brandy in 1890, just 4 years after the Federal distillery opened. Boomerang was officially launched in 1884 and proved to be a huge success! Produced from Australian wine in one of their four pot stills, the Joshua Brothers quickly gained a reputation for the exceptional quality of their spirits compared to internationally imported brands.
In October 1884 the brandy was awarded a gold medal at the Antwerp International Exhibition, winning another gold medal 7 months later at the Amsterdam International Exhibition. It would then win two gold medals in 1897 at Brussels Exhibition, further cementing Boomerang as a top quality brandy!
The popularity of the brand exploded and in the later 1890s it was adopted for use in the Imperial army as well as being stocked in the Houses of Commons in England. Quite humorously it was recommended by Australian hospitals as an effective stimulant to help the sick!
| | |
| --- | --- |
| Sydney Morning Herald, Tuesday 9th November 1897 | Sydney Morning Herald, Saturday 21st August 1897 |
Where Boomerang Brandy differed in its production was the strong use of a copper pot still, as well as their commitment to ageing the brandy for a full two years before its release. This resulted in a considerably older, richer product than much of the brandy being exported from the likes of France and Germany.
The product was of such high quality that Queen Victoria herself granted a royal warrant for the brand to be stocked by the royals in 1900, just 1 year before her death. After she passed King Edward the 7th continued the royal warrant for the brandy before his death in 1910.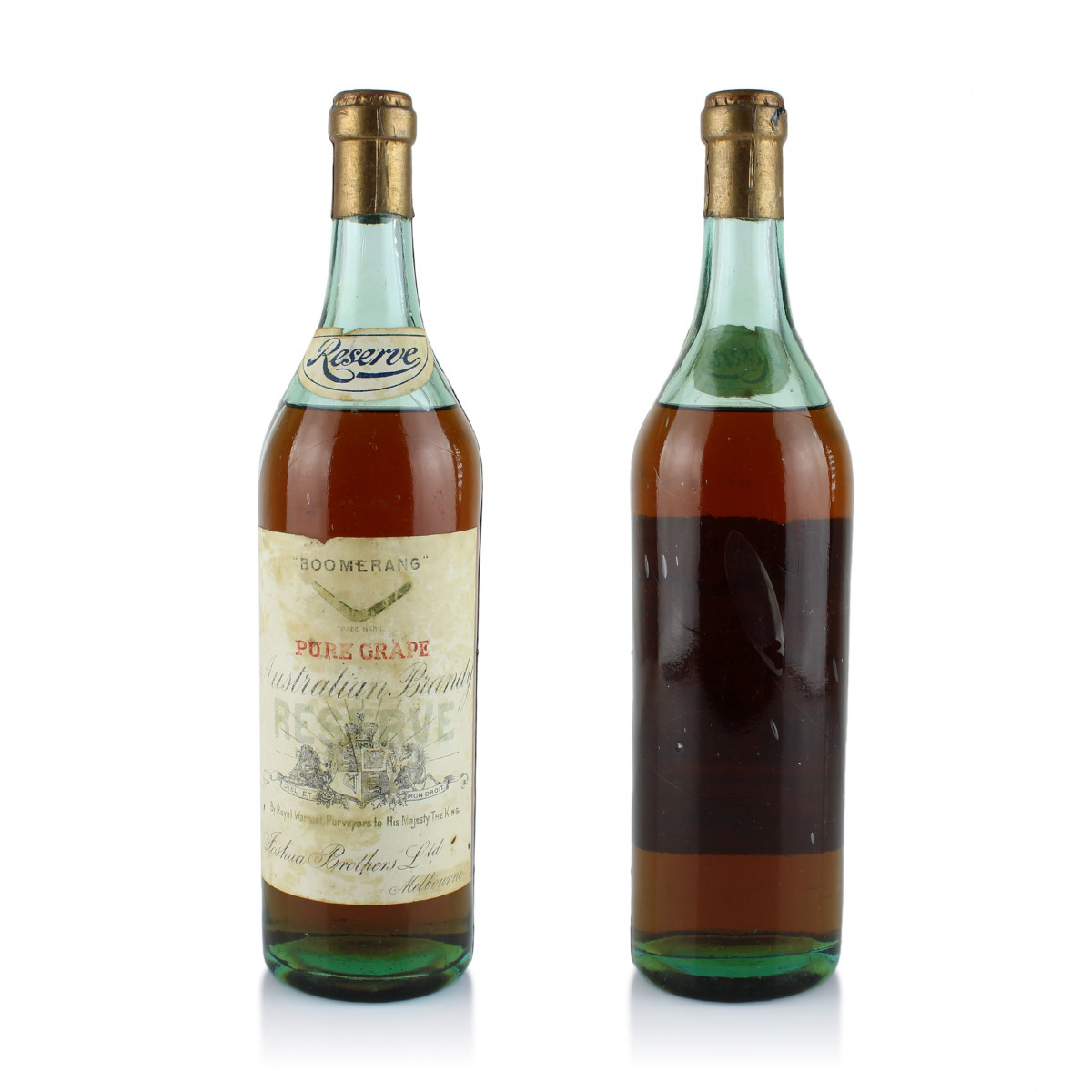 Joshua Brothers Boomerang Brandy, Australian Whisky Auctions
The Boomerang Brandy featured in this month's auction is from 1901 -1910 we believe, with the possibility of being just a slight few more years post 1910. This is noted by the royal warrant on the bottle making reference to "His Majesty The King".
As there is no evidence that King George the 5th continued the royal warrant like his father and grandmother, we believe the label comes from a time when Edward the 7th was on the throne or just shortly thereafter. Note the bubbles in the glass from the moulding process!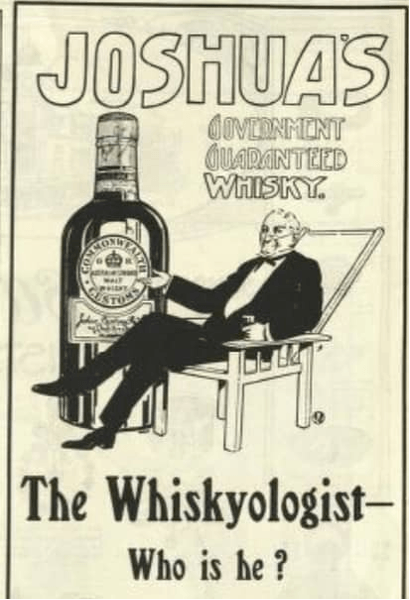 At its peak in the early 1900s Federal distillery was outputting almost 4 million litres of spirit each year, the second largest distillery on the planet at the time. That amount is almost 500,000 litres more than Glenfarclas produces today. Whilst the brandy remained one of the firm's biggest selling products they also produced a wildly popular malt whisky.
Throughout the late 1800s a lot of Scotch whisky imported into Australia was of quite poor quality, with blenders in Edinburgh and Glasgow blending Scottish malt whisky with neutral sugar spirits from Germany. However, the perception of the general market was that Australian whisky was even more poorly made and an inferior product.
To combat this poor image and to ensure quality across the country's industry, the 1905 excise act was passed. This act ensured that spirits had to be aged in oak casks for 2 years, and a commonwealth officer had to provide a certificate that it met the quality standards.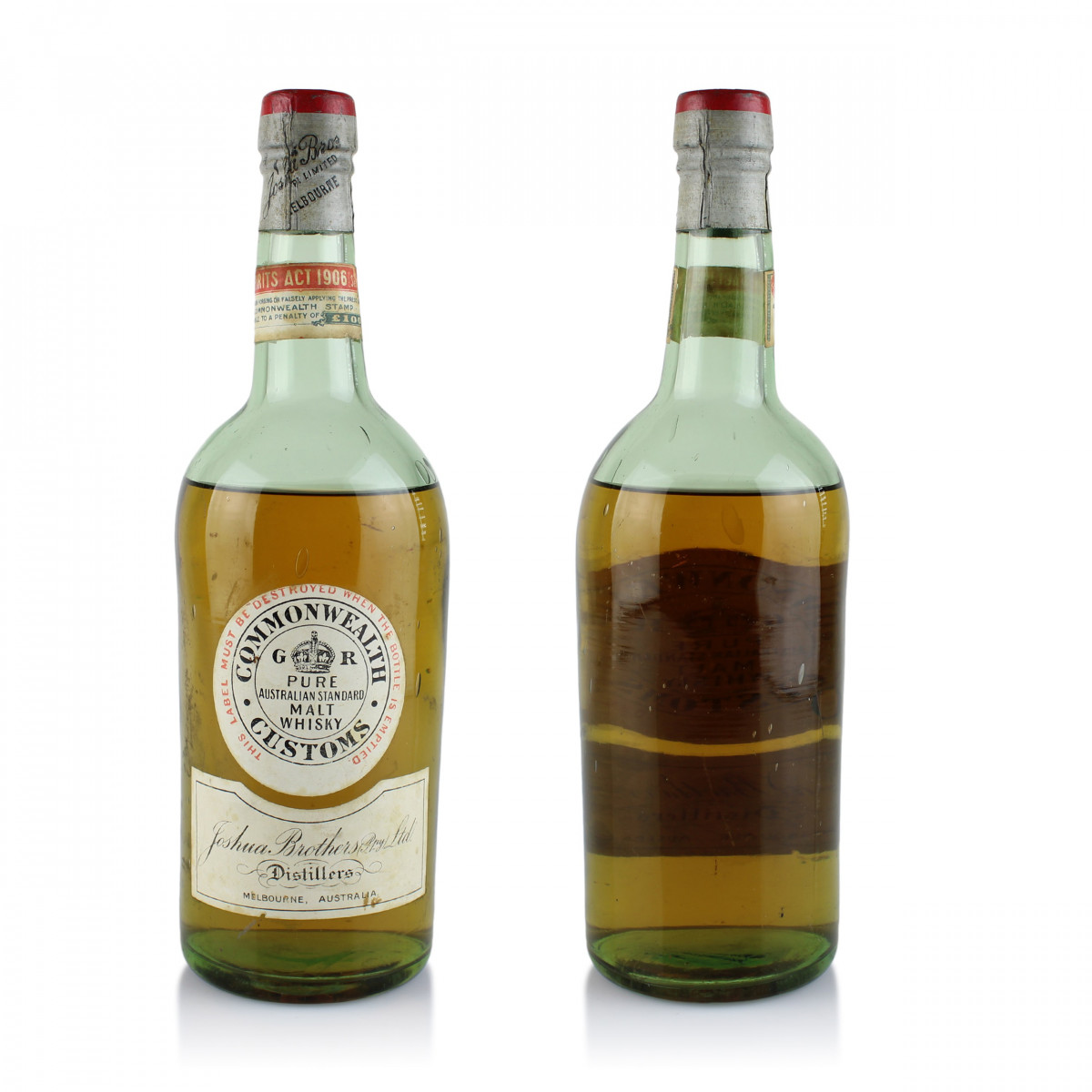 Joshua Brothers Pure Malt whisky, Australian Whisky Auctions
This is where our featured bottle comes in. We estimate this month's Joshua Brothers pure malt whisky was bottled anywhere between 1905 when the Australian Spirits Act was created, as evidenced from the neck tag, and 1924 when the brand became "Joshua's Boomerang Whisky".
This therefore represents an incredibly rare era in Australian whisky history, before the eventual merger of Australia's biggest distilleries. Produced exclusively under Joshua Brothers ownership and aged to the minimum of 2 years in wood by the spirits act, as well as carrying the certificate strip from the commonwealth tax agent. We are truly stunned this bottle has survived to this day, and even more impressed with the excellent state of both the label and capsule.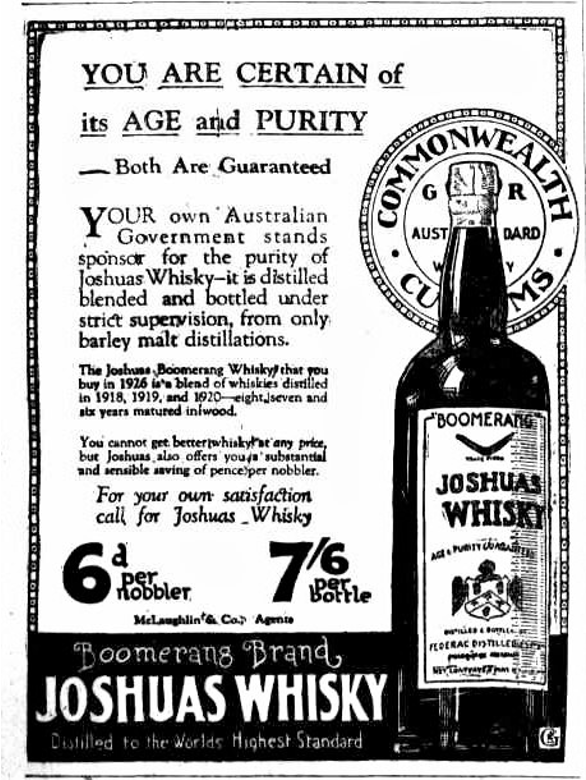 The Sun, 1926
Despite the success with its whisky, rum and brandy the Joshua Brothers firm were struggling against their competitors. Brinds, Australian Distilling Company and the Warrenheip distillery outside of Ballarat were all producing similarly high quality products by the 1920s.
It was therefore decided that all four companies would merge, and in 1924 Federal Distilleries Pty Ltd was formed. This merger brought together the biggest players in Australian spirits production and all their mature stock with them. The firm now had almost 4 million litres of high quality, well aged spirit at their disposal and so the Old Court whisky was formed.
One of Australia's best ever selling whiskies, Old Court consisted of all four malt whisky distilleries stocks aged for at least 5 years. This hugely superior whisky dominated all of the imported whisky options, with many imports typically being of neutral spirits that were blended with a small amount of malt whisky. However, despite the major success Old Court found, Federal Distillers couldn't stave off even bigger competition.
Distillers Company Limited And The Distillers Agency
Officially known as the Distillers Company Limited (DCL), the organisation first began in 1877 when six lowland grain producers merged. This collective allowed these distillers to more rigorously set the standard price for grain whisky at the time, creating considerable wealth for the owners.
However, the Scotch whisky industry crashed considerably in 1898 with many distilleries being forced into liquidation. DCL saw an opportunity for growth amid the chaos and spent the next 20 years acquiring every distilling operation in Scotland they could, most notably purchasing John Walker & Sons. These acquisitions made DCL the largest distilling company anywhere in the world.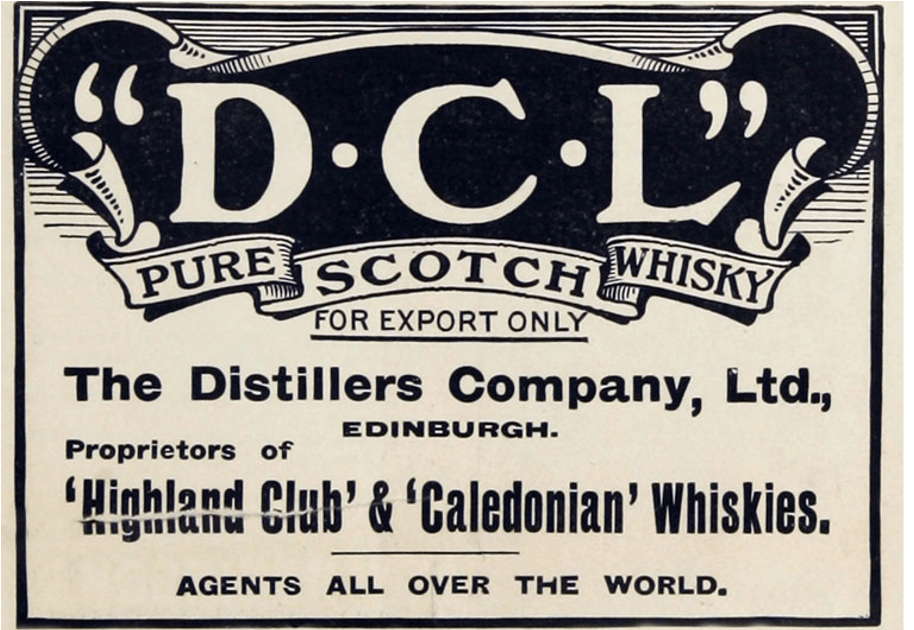 Distillers Company Limited
During their early operations DCL established a strong presence in export markets, especially Australia. In 1924 it chose to amalgamate its export brands into a single subsidiary amid some strong distillery acquisitions, now called the Distillers Agency Ltd.
This new blending company held the licences to both the Knockdhu distillery as well as the now legendary Rosebank lowland malt distillery. These two distilleries provided the malt for Highland Club, Highland Nectar De Luxe and King George IV blend, all designated for exports.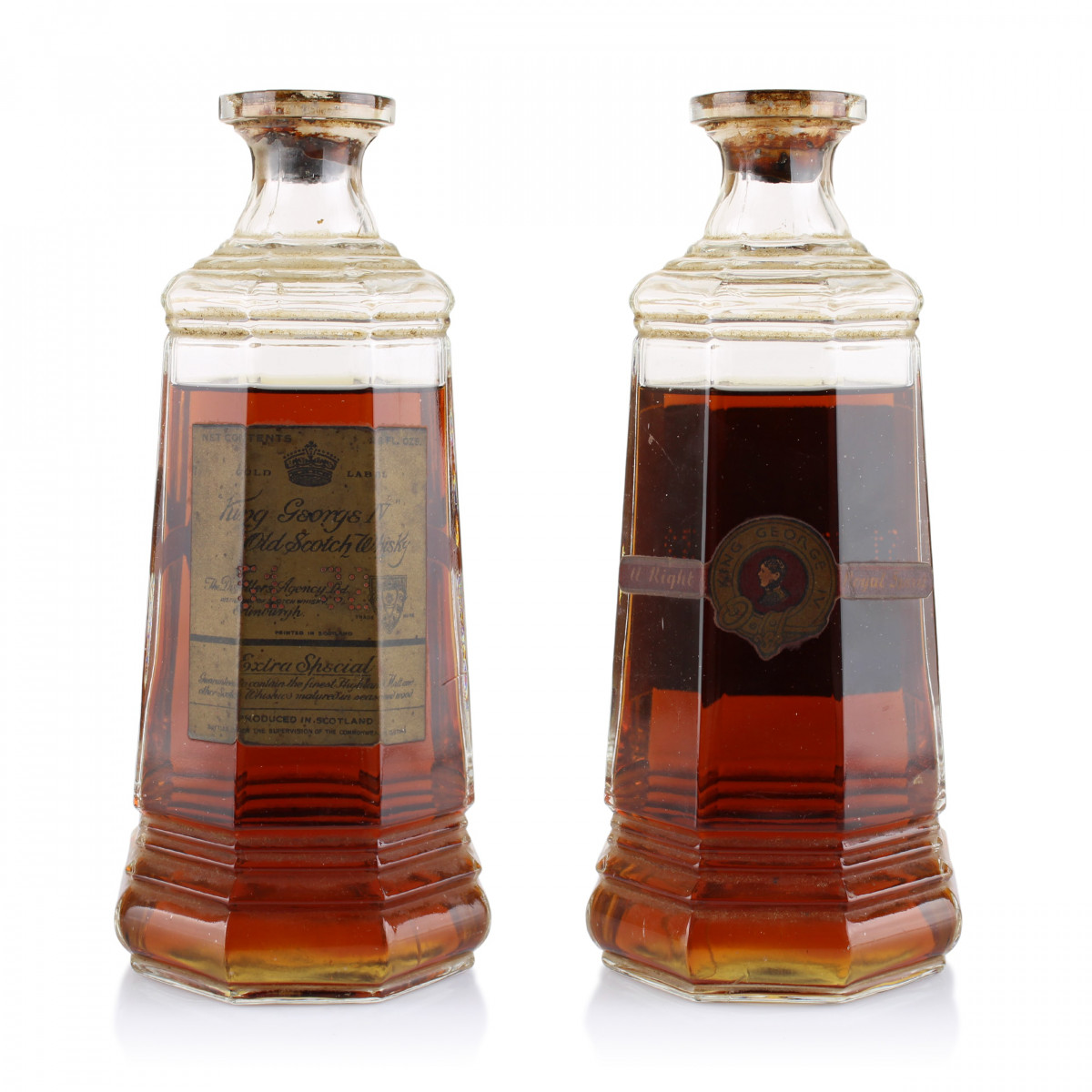 King George IV Gold Label Extra Special 1930s-1940s bottling, Australian Whisky Auctions
The King George IV blend featured in this month is dated at roughly the 1930s - 1940s based on the unique bottle shape and lack of King George portrait that became commonplace for the brand from the 1950s. It declares that it contains Highland malts and other Scotch whiskies matured in seasoned casks, suggesting the use of ex-sherry wood for this blend. We believe both sherried Knockdhu and Rosebank were likely utilised in this fantastic old blend!
The Corio Distillery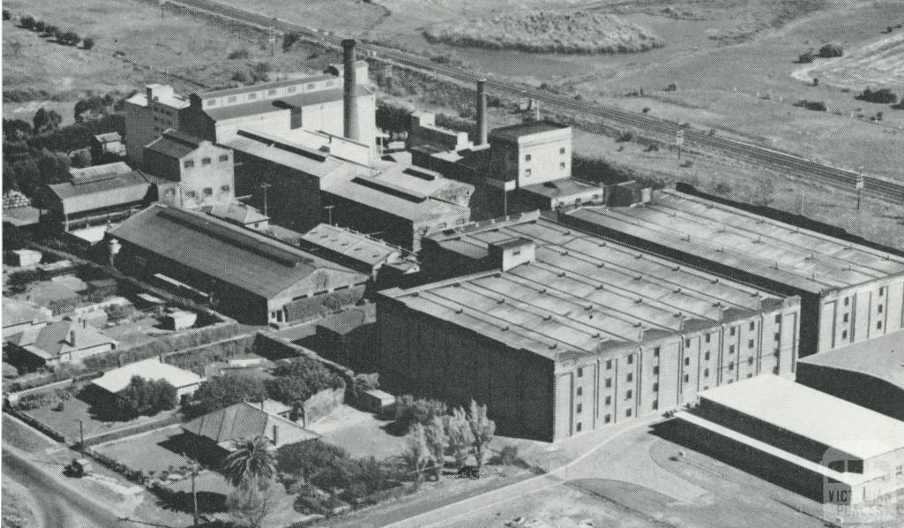 Oswald Ziegler, Corio Distillery, 1965
Amid a change to Australia's taxation and import excise regulations, Scottish whisky was becoming more and more expensive for DCL to export. Additionally, spirits were becoming difficult to produce in the UK with high domestic taxes on alcohol and prohibition taking hold in the United States.
Seeing an opportunity for Australian expansion, a number of employees were sent to Melbourne in 1927 to assess whether a distillery would be viable to build in the area. Just one year later the announcement would be made that water tests had returned positive and a large-scale distillery would be built in the town of Corio in Geelong. Corio spirit officially flowed in March 1929 and Australia had two large companies wrestling for its hard earned wages!
Gin was the first spirit to be sold by DCL, however it planned to age its whisky for at least 5 years before bottling. They laid down almost 2 million litres of spirit in its first two years, however the considerable delay before release created cash flow issues.
To solve the issue, DCL purchased a controlling stake in Federal Distillers, essentially gobbling up its own competition. The merger created the United Distillers Company. The Old Court brand created considerable revenue for the company in Australia, but in 1934 the first Corio bottlings had come of age and many of the legacy brands like the Joshua Brothers whisky and Boomerang Brandy were essentially forgotten about. They lagged well behind Corio for the remaining existence of the company, eventually being dissolved in 1963 and all distillation at these sites halted in 1970.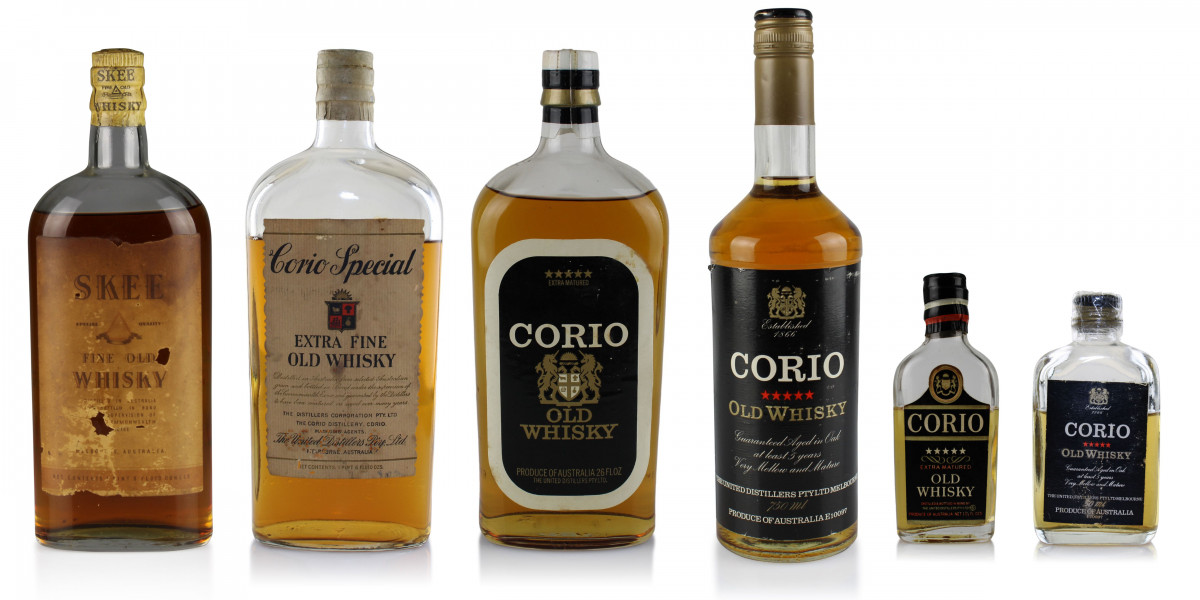 Corio's first official whisky came in 1934 and was called 'Treble A', a 5 year old blend of malt and grain whisky. They also released a number of Corio brands throughout the 1930s such as Old Decanter Whisky and the SKEE bottling we see in this month's auction. However it was their Corio Special Extra Fine Old Whisky they found the most success with, seeing the bottle become a best seller until the 1950s when they launched their Corio 5 Stars brand.
The 1950s saw Corio's sales explode, with over 8.5 million bottles of Corio 5 stars sold by 1959, dominating both the domestic and export markets for over a decade. However, throughout the early 1960s domestic excise on Aussie produced spirits began increasing, with overseas imported excise gradually decreasing. This resulted in brands like Johnnie Walker, which were typically aged much longer than Corio's five years, becoming the more affordable option to the domestically produced brands.
Also detrimental to the brand's image was the petroleum processing industry that had been built near to the site, with dangerous levels of cadmium and lead reported in the Corio bay. This combination of controversies lead to Corio falling out of favour with the public and seen as a cheap and nasty product by contrast to the Scottish blends available.
By the mid 1970s production had slowed to a crawl at Corio and United Distillers paid less and less attention to its Australian distillery. The final nail in the coffin came amid the major whisky downturn at the end of the 1970s and into the 1980s which saw many distilleries across the world closed, with the likes of Port Ellen, Brora, Coleburn and more from the United Distillers portfolio mothballed. The final distillations of Corio took place in 1979 and 1980, with the brand bottling up its remaining stocks throughout the 1980s before disappearing from the market.
Legacy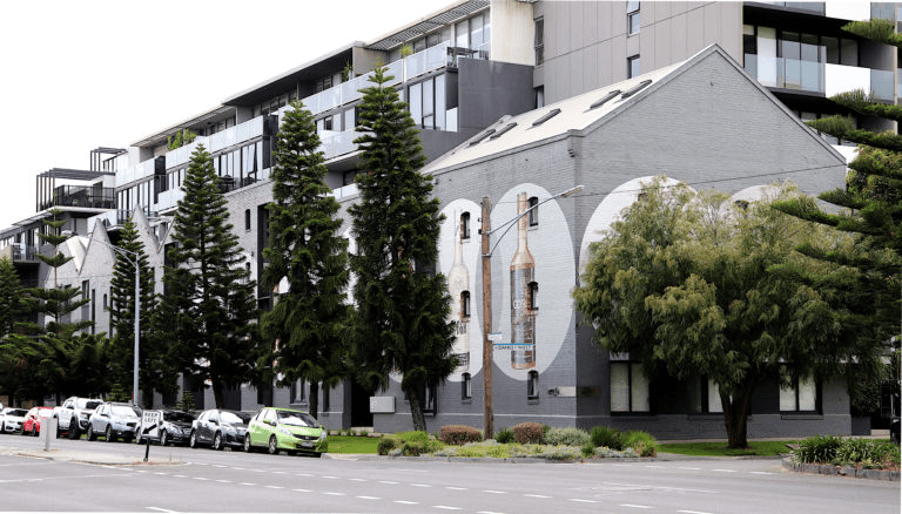 Federal distillery today, Oz Whisky Review
As the United Distillers shrunk much of its business its assets were gradually sold off, with the land for the Federal distillery sold to a developer and flats built in 2003 where it once stood. Corio was essentially abandoned in the later 1980s, with much of the equipment either thrown away or sold off for cheap.
The bottles we are lucky enough to feature this month paint a story of the stunning legacy that is Australian spirits production. From independent, world leading brandy and whisky with the Joshua Brothers, to the large conglomerate DCL and its focus on blends and building a distillery it could call its own.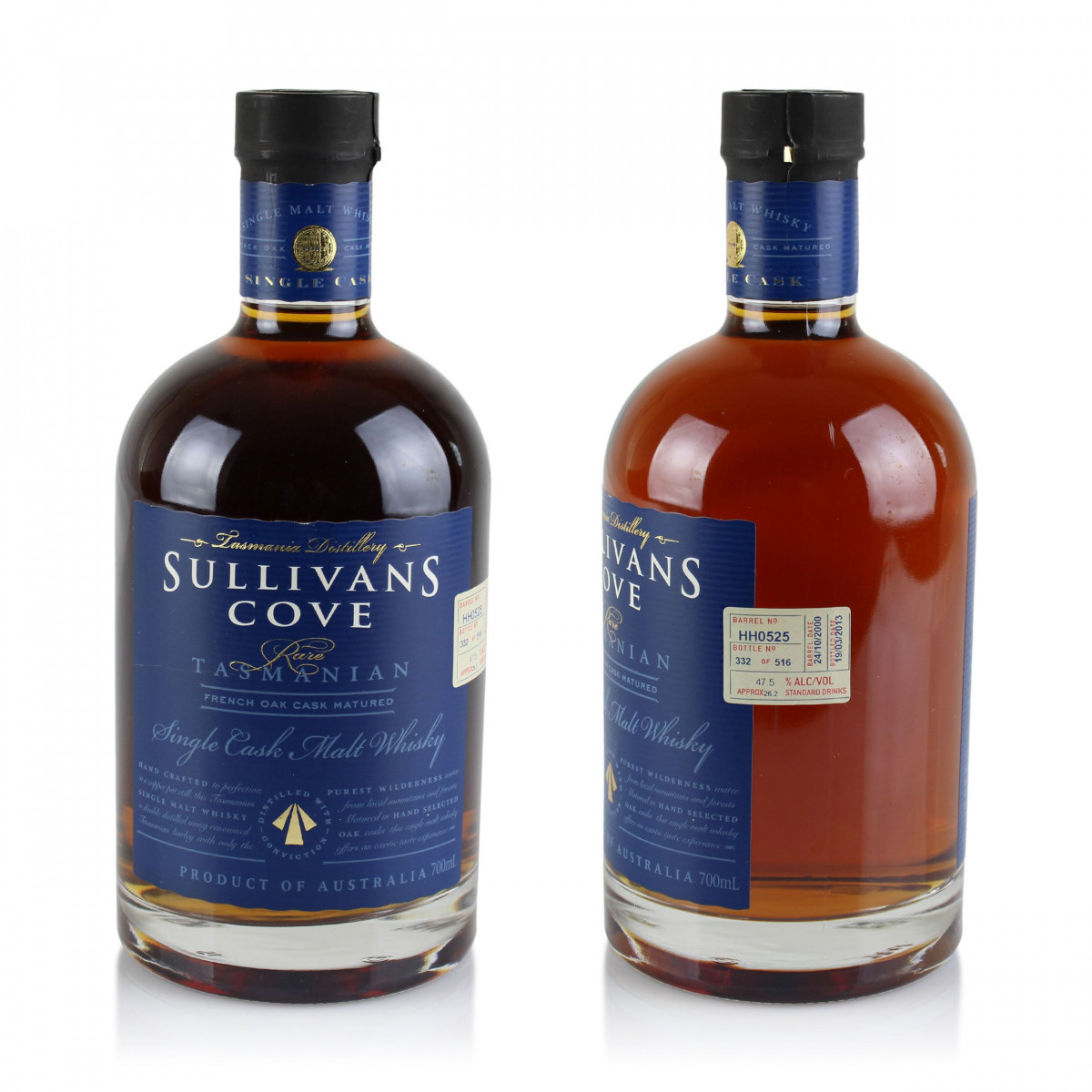 Sullivans Cove Single Port Cask HH0525 - Best single malt whisky 2014, AWA
After the failure of an organisation like United Distillers, you would be forgiven for thinking that Australian whisky would never rise again. But it is through the pioneers of modern Australian whisky from the likes of Bill Lark, David Baker, Patrick Maguire and many more, that ensured failures like Corio did not permanently destroy whisky in Australia.
By learning from the past, each of these producers have found success by creating high quality, flavour driven malt whisky. It is no coincidence that almost 100 years after the Joshua Brothers produced some of the world's greatest whisky, that Patrick Maguire and his Sullivans Cove distillery would win world's best single malt whisky in 2014.
We are excited to feature one such of these legendary casks alongside these historical bottles, completing the story of Australian whisky.
Owain Phillips
Acknowledgements
A huge thanks to Luke McCarthy from Oz Whisky Review. His depth of research into each of these distilleries is truly astonishing and accurate information on bottles like these would not be possible without his tireless effort into preserving Australian whisky history.
Additional thanks to Amit Stern for his help with old bottle dating and advertising material from his archive.
References
Back to News