John The Whisky Man's Collection
22nd September 2023 by Australian Whisky Auctions
Our ongoing September auction marks a unique milestone for Australian Whisky Auctions, with the first batch of a huge collection of 600+ bottles. This is the largest collection from a single vendor we've ever seen, with approximately 200 bottles listed in each month for the remaining auctions of 2023. This eclectic collection comes from long-time enthusiast John, "The Whisky Man", who started acquiring bottles in the late 1990s and early 2000s. John arrived in Australia in 1974, originating from Leeds in the north of England. He originally had a large parrot aviary but once that had been sold he found he focused his time on whisky. Over the years he developed connections with German retailers and other specialist whisky companies, having bottles delivered consistently. One of John's friends was also an international pilot, so would frequently bring large format and exclusive duty free bottles as gifts.
John's goal for his collection was to have one of every operational distillery in Scotland, as well as finding an interest in "mystery malts", expressions that typically did not disclose the distillery on the bottle or were released under different brand names. Much of his enjoyment with the whisky came from researching and discovering where these unnamed bottles were sourced from, theorising which company was connected to which distillery, and noting down potential matches. Eventually John began running tastings for much of the regional Cairns area, giving talks about whisky for the local Dan Murphy's as well as hosting some whisky education for private companies. Reportedly his favourite two malt whiskies are Port Ellen and Hazelburn, evidently John has excellent taste. Given the wide range of bottles in this collection, we'll highlight a few unique releases featured this month: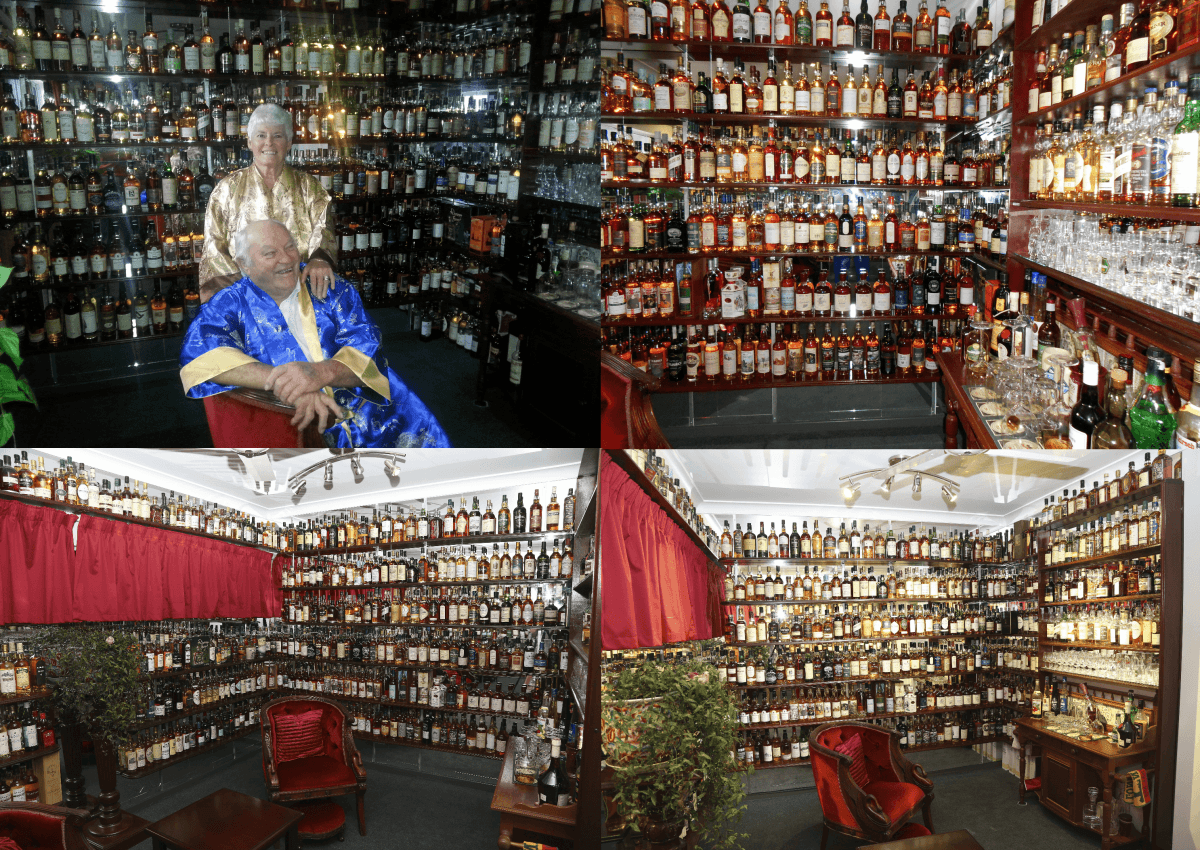 Connoisseurs Choice
First launched in 1968, the Connoisseurs Choice series has been available in different forms for over 55 years. The range was devised by George Urquhart, the visionary head of esteemed independent bottler Gordon & Macphail. He developed this range exclusively for Italian importer Edoardo Giaccone, as the Italian market was favouring well-aged malt whiskies over the commonly available blended expressions. The Connoisseurs Choice series has featured over 100 distilleries and has accumulated over 2000 different releases, making it the longest-running label from any independent bottler. The series has evolved with the changing whisky landscape, and today it is more focused on single cask, cask strength releases than the 40/43% cask vattings the originals were composed of.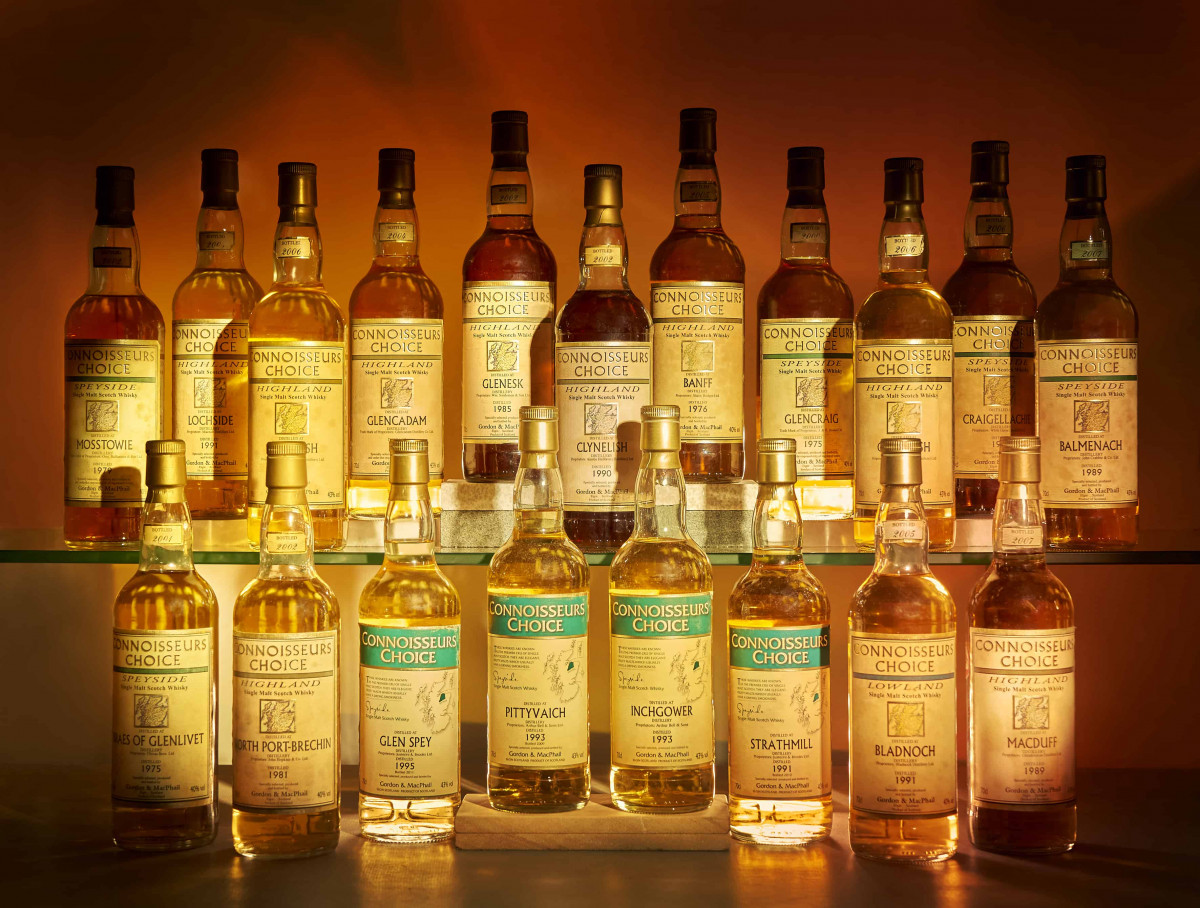 October's auction features 20 different releases of the signature series, all bottled between 2000 and 2011. They contain a mixture of closed distilleries and significant expressions. A couple of the more unique releases to highlight are both the Glencraig 1975 and Mosstowie 1979. These two bottlings were created using unique Lomond stills, a kind of hybrid still using a large pot at the base with a straight neck at the top containing three perforated plates. These stills were developed by Alistair Cunningham, who worked for Hiram Walker, the big blending and distilling firm behind the Ballantine's blend.
Lomond stills were installed at Glenburgie in 1958 and at Miltonduff in 1964, allowing them to create the Glencraig and Mosstowie spirit types, respectively. The spirits were typically reserved exclusively for their blends, but as we see with these Gordon & Macphail releases, some of the new make spirit was entrusted to independent bottlers along the way. Both styles of spirit were discontinued in 1981, so these 1970s vintages are well-aged editions of the spirits, representing over 20+ years in cask. Rumour has it the last known maturing cask of Mosstowie was bottled this year at over 42 years of age!
Closed Distilleries
John's collection morphed over the years with a big interest in mystery malts, but his primary focus was to acquire a bottle from every working distillery in Scotland at the time. Once he'd achieved that goal, he set his sights on the closed distilleries as well. Sought after names like Brora, Port Ellen and Rosebank are all present but more under the radar closed distilleries like Glen Mhor, Banff, Glen Albyn, Glenugie and Glenlochy are featured. October's auction has a number of these closed distilleries, with my feature bottle from this series being a stunning 1976 Banff bottled in 2005 after almost 3 decades. A somewhat cursed distillery, Banff struggled to stay open as a large number of fires took place throughout its history, the site was even bombed in 1941! Closed in 1983 amid the downturn of the Scotch whisky industry, Banff would eventually be destroyed by another fire in 1991, a somewhat fitting end.
Mystery Malts
A core theme of John's large collection is the presence of mystery malts, a type of bottling that typically doesn't feature the name of the distillery where the whisky was produced. These take various forms, from unnamed Speyside, Highland, Island etc single malt expressions often done for exclusive markets or retailers. For example, the Glen Marnoch and Ben Bracken range of whiskies are produced for Aldi and Lidl supermarkets respectively but sourced from stocks distilled by other companies. John spent much of his time researching these unnamed bottlings, speaking to retailers and distillers to try and discover where the liquid originated. He kept a folder of printed notes and webpages as a record of his research.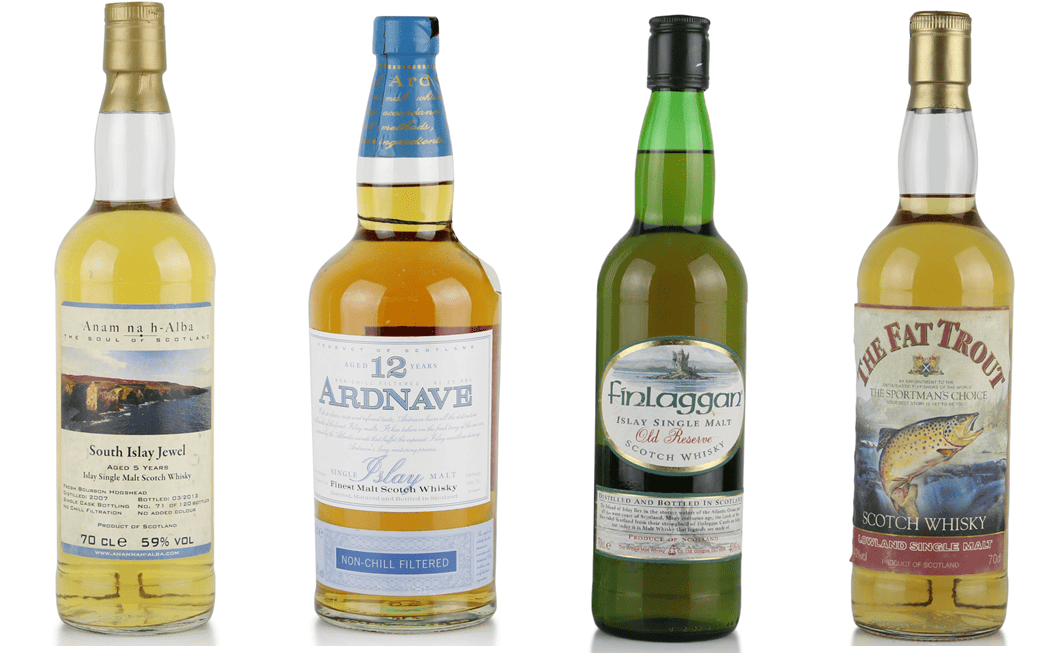 This is one of the pages from John's folder and provides tasting notes on an 8 year old Dun Bheagan release as well as his theory of it being sourced from Lagavulin. Whilst we can never be 100% sure on the source of spirit, that guessing and theorising is half the fun.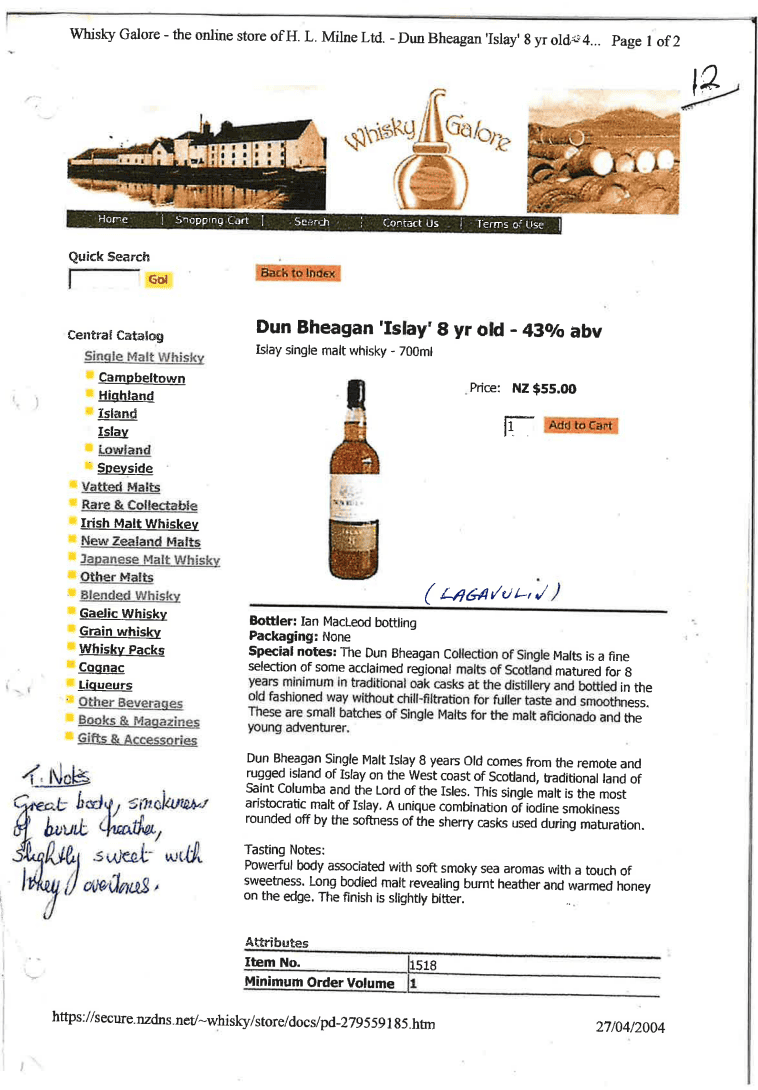 Upcoming bottles
September's auction sees the initial 200 or so bottles from this collection under the hammer, but both October and November will continue to feature his bottles. This month focuses on Gordon & Macphail releases with the Connoisseurs Choice range, October's auction will highlight some special single casks from the Old Malt Cask and Provenance labels including a St Magdalene, Rosebank and Glenury royal. Additionally October sees a big chunk of no name mystery malts from the likes of Master Of Malt and Ian Macleod as well as more independent bottlers like Wilson & Morgan, Hart Brothers and Murray McDavid. Our final November auction will be a showcase of some stunning Signatory Vintage bottles including a Brora, Glen Albyn, St Magdalene, Dallas Dhu, Caperdonich and Convalmore as well as a specialist mystery malt bottler the "Whisky Connoisseur" which features over 12 Speyside sourced single malts celebrating unique moments and characters from British history.
John's collection in his own words
In 2011 John's son in law Derek filmed a series of videos documenting the collection as well as exploring the different regions of Scotland. These videos are a unique insight into how John procured many of his bottles as well as showing the bottles on shelves in his home. If you'd like to visually explore John's bottles these videos are publicly available on YouTube.

https://www.youtube.com/watch?v=6pyQw-H-Iv8&t=128s&ab_channel=derekfowell
Collections
This is the largest single vendor collection we've seen at AWA and it's been great fun working our way through it, discovering plenty of unique and quality bottlings. If you've got a sizable collection you're considering selling we can provide support, strategies and valuations to help with an effective sale. Contact us at tea[email protected] and we can provide assistance.
Back to News