1964/1995 Black Bowmore Final Edition
24th September 2022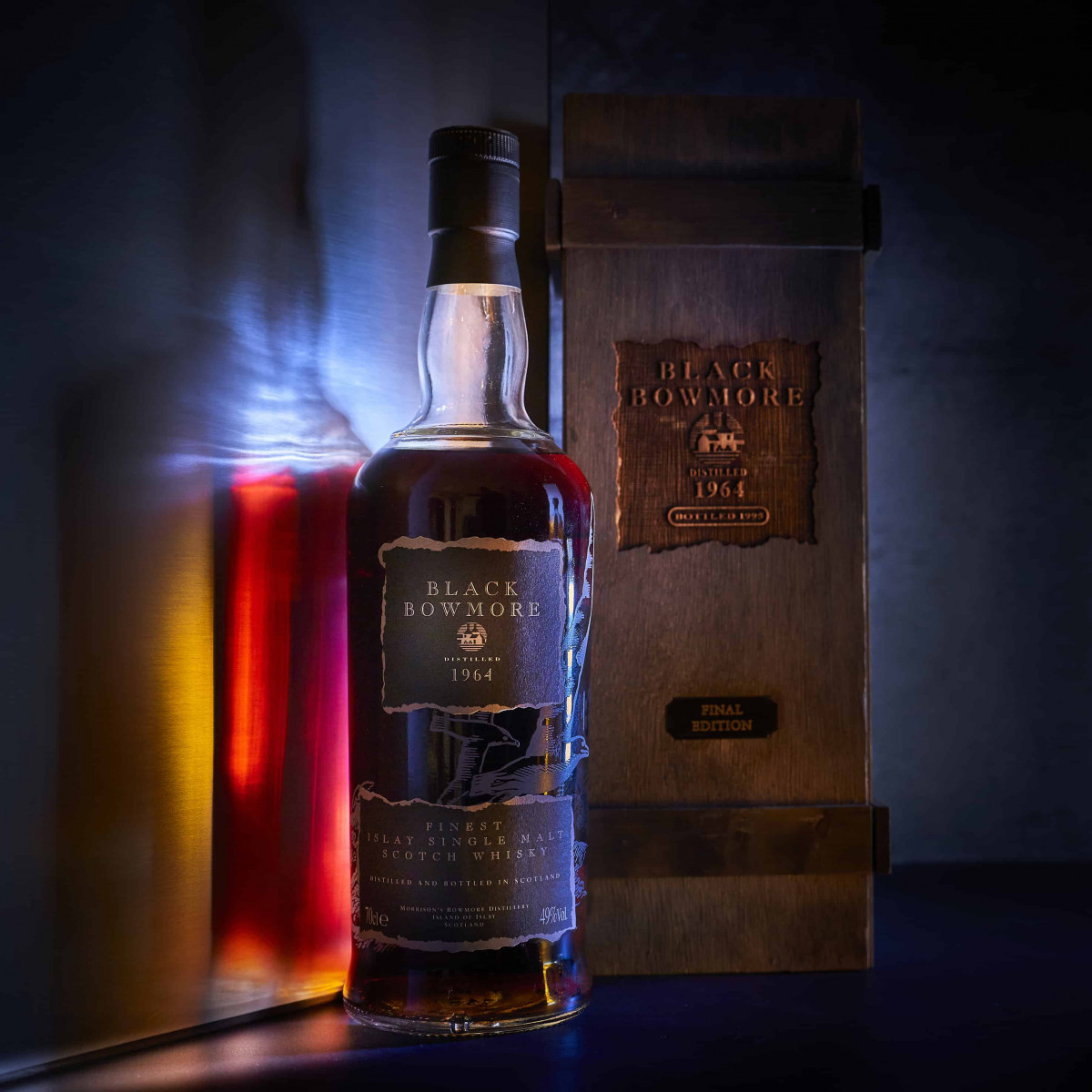 1964/1995 Black Bowmore Final Edition Featured in Australian Whisky
The Black Bowmore, a name that has become a legend, and is exceptionally appropriate to the liquid contained within these excellent bottlings. Deep, dark, and delectable, this series of whisky from the Bowmore distillery on Islay has become nothing short of mythical, typically rating amongst the greatest whiskies ever produced on the island. But how did these releases come to be? What made them so special? And how is it that a small group of malt whisky enthusiasts in Australia were responsible for the name of this legendary whisky?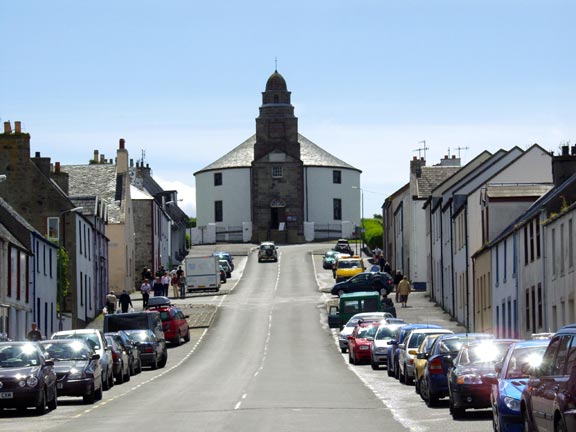 Bowmore main street – credit Dorcas Sinclair
Original releases
Bowmore has been at the forefront of innovation in Scotch whisky bottlings throughout history, being one of the first Islay distilleries to truly lean into limited editions with releases such as their bicentenary bottle. The 'original' editions from the Black Bowmore series saw three releases, with a 29-year-old first edition launched in 1993, a 30-year-old second edition in 1994 and our featured final edition in 1995 that was aged for 31 years. All distilled in 1964, this vintage has produced some of Bowmore's most incredible spirit and has seen a huge number of releases throughout the last three decades. There is debate around why this particular vintage produced such truly great whisky, with some reports suggesting it is the quality of the casks and others declaring this year no different to any other.
1964 was an important year to the distillery, being acquired by Stanley P Morrison the year prior and Morrison Bowmore distillers being formed at the same time. This transfer of ownership brought with it a slew of upgrades, most notably though was the transition to steam heated stills and the installation of a boiler that was completed in late 1964 after many delays. This transitionary period suggests that the vintage is likely one of the first Bowmore vintages to utilise steam heated stills, generally regarded as a more consistent method of production. This new make was filled into exceptionally high quality and very active Oloroso sherry butts, the core reason for the series' signature colour.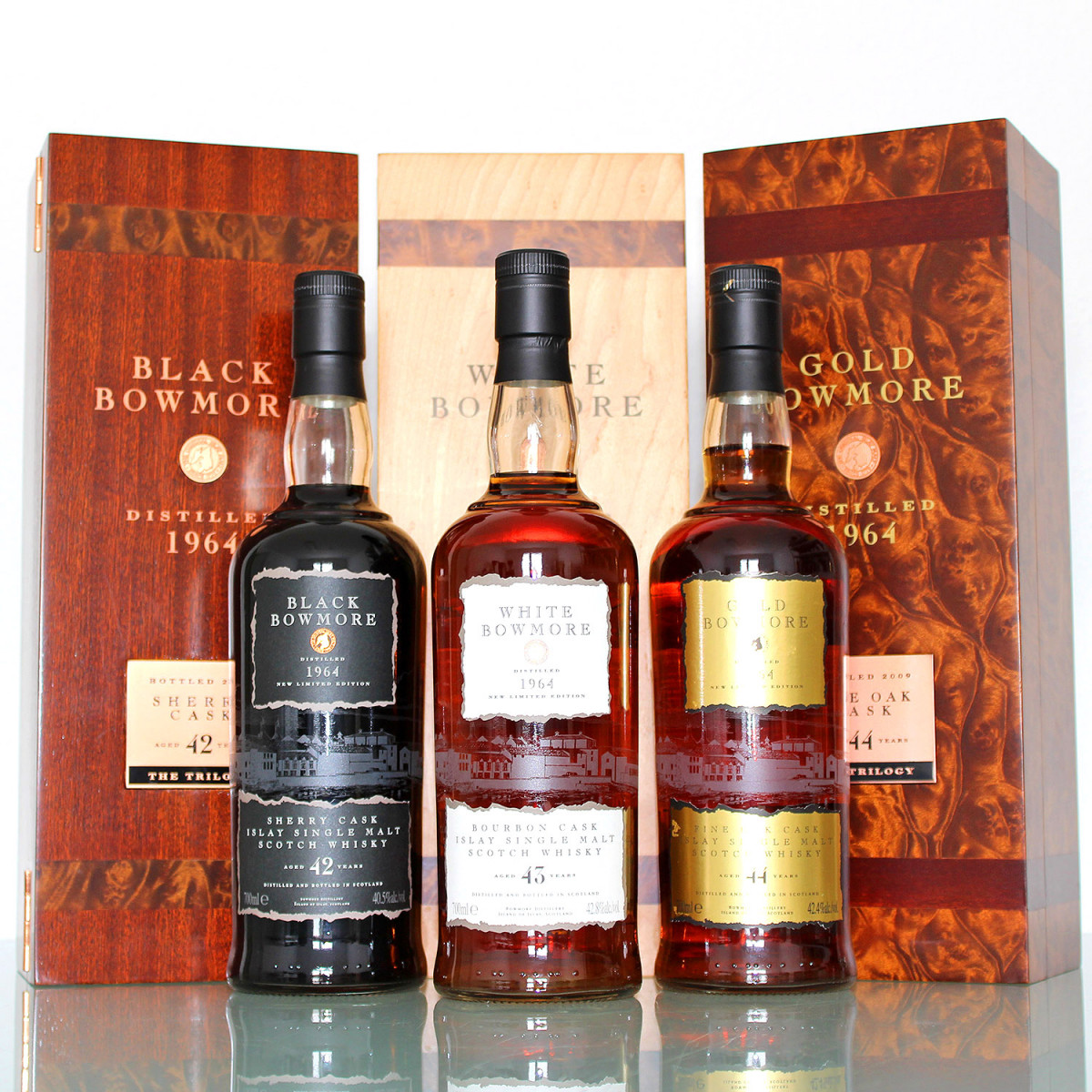 The Bowmore 1964 Trilogy – credit Spirituosen Ankauf
Follow up releases
The 1995 edition of the black Bowmore being named the 'Final Edition' would suggest that the series had been completed, but as luck would have it more casks from the vintage were discovered! A sequel trilogy to the original three bottlings would be released between 2007 and 2009. These bottles were incredibly unique, featuring a 45-year-old Bowmore 'White' comprising of exclusively bourbon cask matured spirit, a 44-year-old 'Gold' Bowmore that included 3 bourbon casks and 1 Oloroso sherry casks as well as a 42-year-old expression of the black Bowmore, aged purely in Oloroso sherry! All 3 bottlings were exceptionally well received by critics, with the incredibly unique experience to taste Bowmore at over 40 years of age in its various cask matured forms. The series would once again fall silent, with just 800 or so bottles of the 42-year-old in circulation. That was until 2016!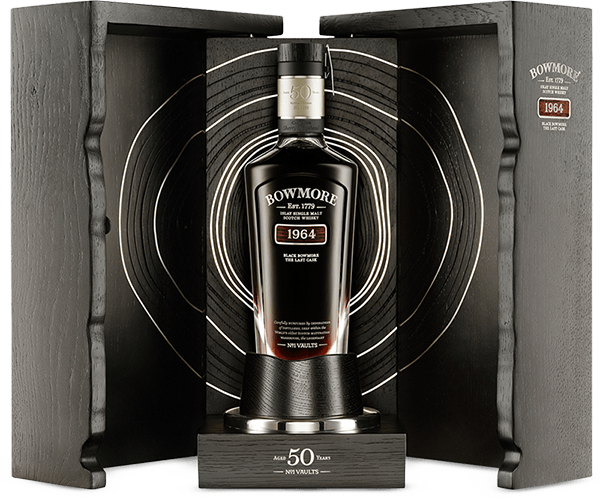 Black Bowmore 50-year-old, the last cask – credit Bowmore
Released in 2016, the fifth instalment in the black Bowmore series was a huge 50-year-old expression! A cask that had sat dormant in the cold and sea washed No 1 vaults of the Bowmore distillery, this last cask had reached an Abv of 40.9%, so very close to the 40% legal limit of not being whisky anymore! The cask was tanked in 2014 to prevent any further ageing and loss of alcohol, being presented to the public in 2016 with only 159 total bottles from the cask. But once again, the legend of the Black Bowmore lived, and in 2020 through a collaboration with Aston Martin, a Black Bowmore was released. Although this edition came with a twist.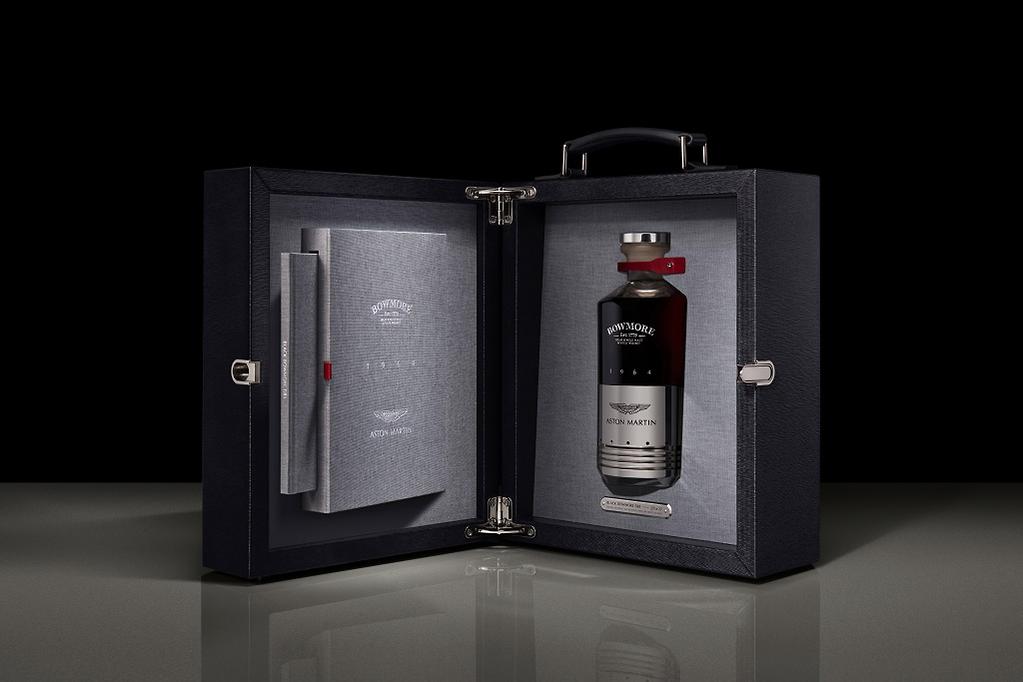 The Black Bowmore DB5 Edition – credit Carsales
This bottling featured the 1995 released final edition that we have in this month's auction, but rebottled and presented in a custom decanter designed to capture the pistons of the Aston Martin DB5. This makes the liquid still only 31 years old, despite being almost 60 years from its original distillation date. 1964 marked an important year for Aston Martin, with its DB5 making its Bond debut in Sean Connery's Goldfinger. The collaboration comes as Bowmore begun cementing themselves as a luxury brand, also launching a number of duty-free limited editions inspired by Aston's legendary cars.

Bowmore 1964, 17-years-old for the Gillies Club – Credit Gillies Club
Australians are responsible for the name!
Perhaps the most curious fact about this series of bottlings is that Australia's premier members club, the Gillies club, is heralded as the first group to bottle a Black Bowmore, and it is suggested that they created the name! Founded in 1977, the Gillies club is a private club dedicated to the appreciation of malt whisky. The club has a number of branches throughout Australia and has bottled some truly exceptional single casks of whisky throughout its existence. Notable bottlings include a 1965 Clynelish, Port Ellen, a 25yo Glenlivet and an early Port Charlotte cask. It was in 1981 that this club purchased a cask of Bowmore from the 1964 vintage, importing the barrel to Australia. It was a 17-year-old malt that had been matured in an Oloroso sherry cask, and upon its arrival to our shores was bottled exclusively for the club members. As the whisky was shared and appreciated, the members began referring to the whisky by the nickname 'the black Bowmore', as the colour of the whisky from the sherry cask was so exceptionally dark. A few important notes around this original 1981 bottling are that the cask was sold at cost price to members, with a bottle retailing for $23 AUD, roughly $100 AUD in todays money. It was also bottled at a cask strength of roughly 57%, a practice that was extremely uncommon at the time with very few distilleries offering single malt expressions above 43%. In 1985 the club bottled a second edition from this vintage, a 1964 aged for 21 years!
Brian Morrison joined Bowmore in 1964 and was managing director for many years of its operation. During the 1980s Brian spent a period of time in Australia, and it was through this connection that he would be invited to be a member of the Gillies Club. Brian helped to facilitate many cask sales for the club, and when it came time for a special edition release from Bowmore themselves, he remembered the name they had given their own bottlings. Thus, the Black Bowmore was born, and the legend established!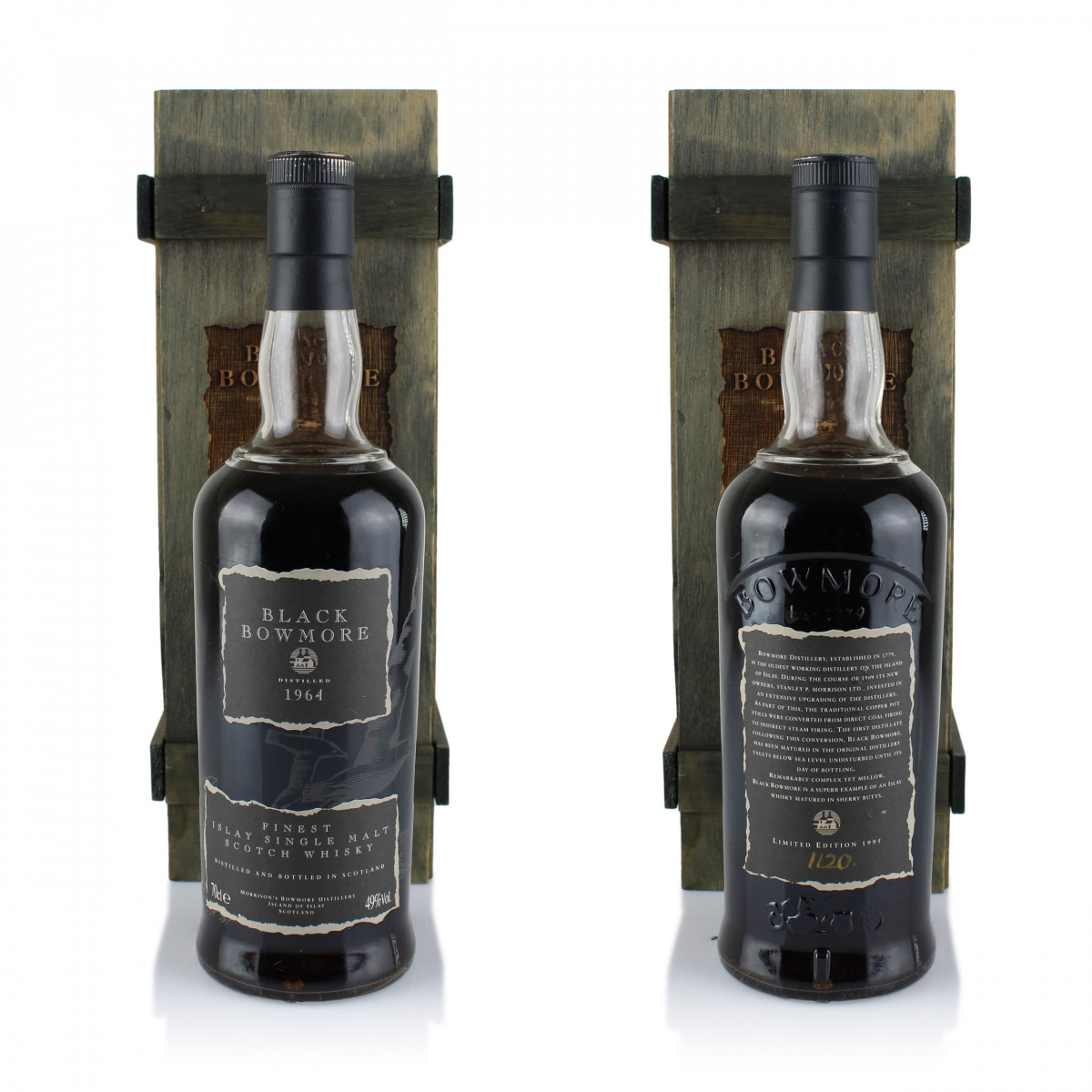 1964/1995 Black Bowmore Final Edition Featured in Australian Whisky
The Black Bowmore's legacy
The impact this series has had on Bowmore is immeasurable. With the range originally released for just 100 GBP a bottle, modern auction prices for the ever-dwindling liquid have rocketed to the top. Most notable was the sale of the DB5 edition in early 2021, where a single bottle of the 25 that were released was sold for a huge 81,000 GBP. Additionally, a three-bottle collection of the original 1993, 1994 and 1995 releases were sold for 40,000 GBP just last month in the UK. The luxury status of Bowmore has been built on the backs of whisky releases such as this, with the distillery having produced truly some of the best whisky from Islay's shores. We are incredibly privileged to feature this unbelievable bottle in September's auction!
Owain Phillips
Back to News